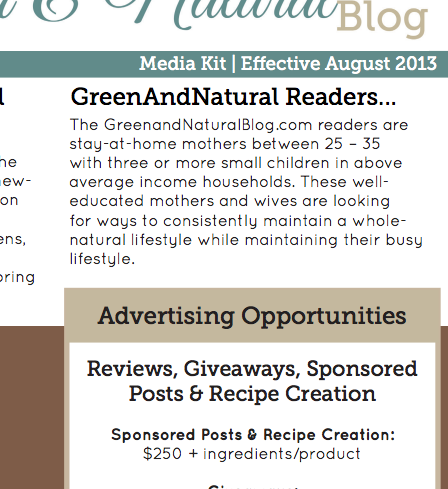 A media kit is a pretty important piece of the puzzle. It is not the end-all be-all by any means, you still have to create great content, be a steward to your community and be someone people trust.
But you need a media kit, often times, to get in the door. Other times your foot is already in the door and the PR Gal you're working with just wants to put your media kit in the file.
And other times the media kit serves as a professional tool. In fact the next time someone says "Oh, that's cute", when you say you're a blogger, tell them to take a look at your media kit. That quiets the ignorant.
So I'd encourage you to hire someone to help you make your media kit, get tutored on how to do it or buy this great ebook on making them.
If you'd like to hire us to create your most awesome super rockstar media kit ever, this is what we'll have done for you:
Full Package – $350.00

Conduct a reader survey that is tailored to your site via Survey Monkey (includes logo, coloring, questions, etc.)
Provide you with an easy to read report on the findings
Provide you with advice on going rates for advertising and sponsored posts of blogs in like size
Take key insights from your reader survey and create a professionally designed media kit that is unique to your niche and editable.
No two media kits are the same. By using reader survey information, we are able to pull out key insights that brands are looking when they work with bloggers. That's where the gold is and is what makes you stand out.
If you'd rather have experts do it for you, click this button and we're off and running . . .