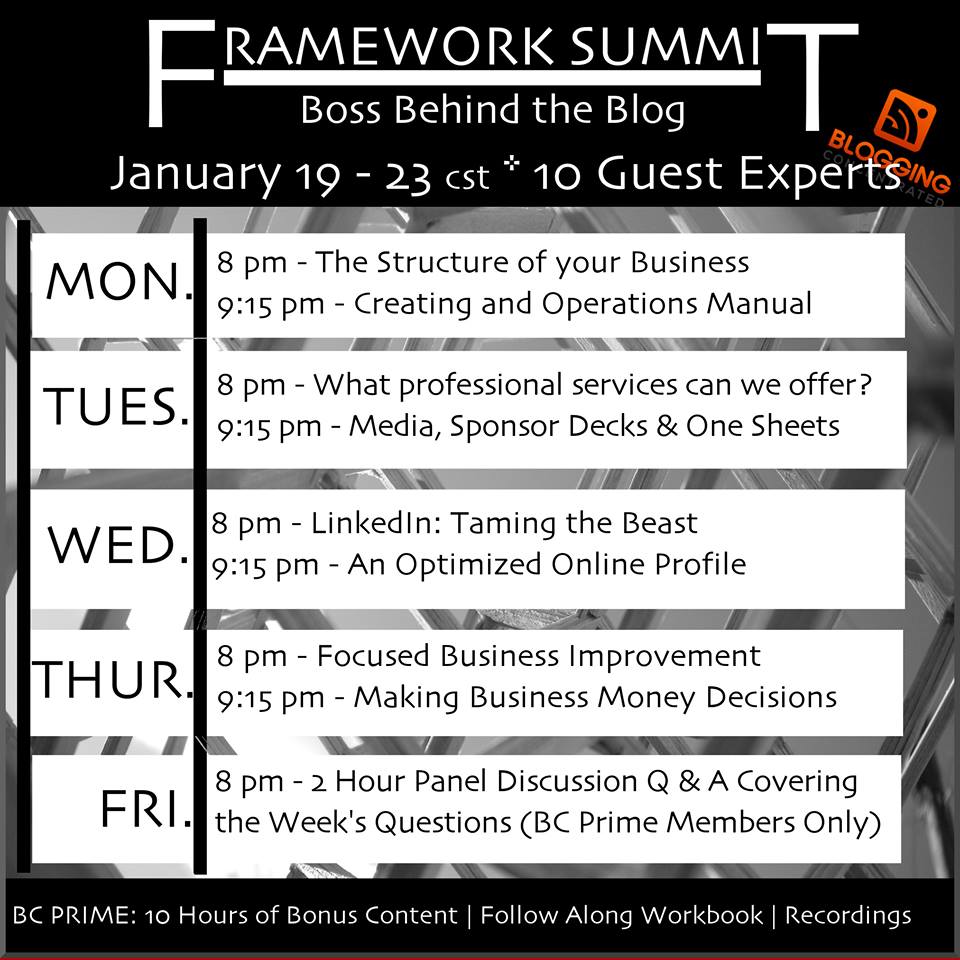 Do you have a Framework for your company developed? Do you have an operations manual? Media kit? Systems in place?
Blogging goes beyond writing posts, using social media, and creating pictures. Blogging, when you look at it through the lens of a company, includes many foundational facets that all lead to your success. They are the layers of operations, structure, outreach, marketing, and vision that combine to create you and your business.
Which is your Framework.
The Framework Summit: The Boss Behind the Blog is a series of webinars that will dissect the various parts behind your business – from the structure of your company, to your about me page, media kid, organization and more. These webinars will feature exclusive industry experts sharing their secrets with all of you.
Every night, starting Monday, January 19 through Thursday, January 22 there will be two live webinars starting at 8:00 and then 9:15 pm CST. These webinars will break down those critical Boss Behind the Blog infrastructure pieces and make them not only doable but also manageable. Sometimes it is easy to look at all we should be doing and not know what steps to take first. Part of our goal with Framework is to take each of those items, break them down, and to give you a solid action plan moving forward with targets for you to complete on your party to business success.
As an added bonus for our BCPrime Members there will be another exclusive webinar on Friday, January 23 at 8pm where it will be a live Q&A where all of your questions regarding the summit can be addressed by industry experts.
How do I join?
Registration is free – you simply show up, listen, and learn. And remember as a member of BC Prime you will not only get forever access to the recordings but you will also receive an exclusive Framework Handbook for you to take notes in during the calls and you'll be part of our Q&A webinar on Friday. Just add your email to the email option below.
[subscribe]
How do I access the recordings after the live event?
You have two options:
1. Join BC Prime and receive access to all the behind the scene Framework awesomeness as well as ALL past webinars, courses, and content created by Blogging Concentrated which also includes discounted prices to all of our BC Workshops. BC Prime Membership is $49/monthly OR $450 for a lifetime membership.
2. Or purchase the entire Framework Archive for $249.
*****
We're looking forward to great success in 2015 starting with our Boss Behind the Blog Framework Summit!
**since all updates are sent via email please remember two things – allow a bit of time for the email to hit our system and then yours and two please check your spam/junk folder for your confirmation email if you don't receive one from in a reasonable time.